A few years ago, I started to create jewelry, more specifically bracelets, using vintage and new buttons, along with old charms and bits and bobs (love that expression!) of other oddments. I've started listing some in my Etsy vintage shop and decided to show them off. They are not technically vintage, but all have some antique and vintage (read, old) parts, so I think that counts!
I've developed a fascination for antique ladies' wristwatches and really like disengaging them from their bands and cleaning them up a bit. This is my silver version (actually stainless steel).
My gold version, with decorative connectors, which are actually pieces from an old bracelet.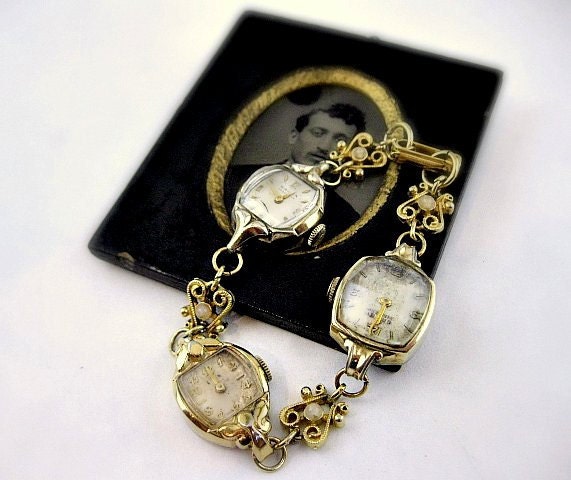 The sort of vintage watches I look for are becoming more difficult to find at a reasonable price. I don't care if they work, although I prefer to place a working one in the center position, in case someone wants a real timepiece. Either they are too expensive or someone has taken them completely apart to sell the workings.
This is a talisman bracelet, made from copper wire and embellished with broken earrings, another watch face, beads, and who knows what else.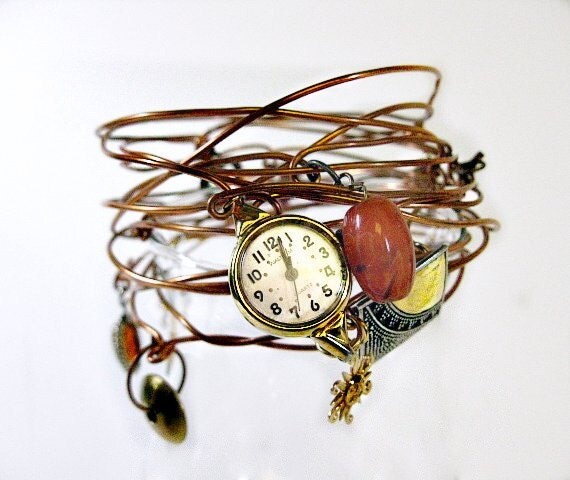 I'm looking forward to making another, perhaps out of silver wire. It's a great way to use up things that have been sitting around. One is supposed to imbue the piece with good karma while working on it, which I guess I've tried to do. It brings me a smile when I look at it because it is rather quirky.
A MOP (mother of pearl) bangle, made with memory wire. The buttons are flat shanks, placed on both sides, so it is reversible.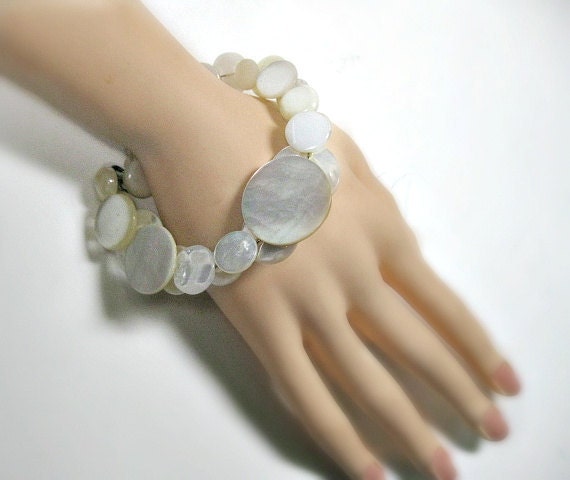 I had to put a clasp on it because the buttons caused the wire to "lose" it's memory, so to speak. I think it would be perfect for a wedding, if the bride is an adventurous sort.
I have been branching out into necklaces and have also done some earrings, none of which are yet in my vintage shop. Maybe I'll show them off soon.